Placing An Order Online
Step 1: Select Quantity
If you already know the product you need and its available for purchase via our online shop all you need to do is select your quantity and add to cart. Please note that there is a maximum weight of 4 ½ Tonne (4500kg) and should your order exceed this weight we would recommend contacting our team directly.
Step 2: Add Delivery Details
At checkout stage you will be asked to complete your delivery details. A delivery fee will then be calculated based on your delivery address and combined order weight. Online order deliveries are made kerbside if you are unsure what this means, please review our delivery conditions here.
Step 3: Order Confirmation
Once payment is received, a member of our team will contact you via email to confirm your order has been processed.
Step 4: Delivery Date
When your order is ready for dispatch our team will call you to advise a delivery date. We ask that you be available to sign for delivery to avoid re-delivery fees. Online order deliveries may be made using a trusted third party express courier and should you experience any difficulty please let us know.
---
Applying Free Delivery Promo Codes
Step 1. Promo Code Entry
Follow the cart process as normal, completing your delivery details to include postcode & eircode. Select 'Home Delivery' and proceed to the payment section where you will see the below discount code box. You can free type or copy and paste the code into the 'Apply Discount Code' box. Please ensure you have entered the delivery promo code exactly as it was given to you (i.e capitals letters or spaces if presented).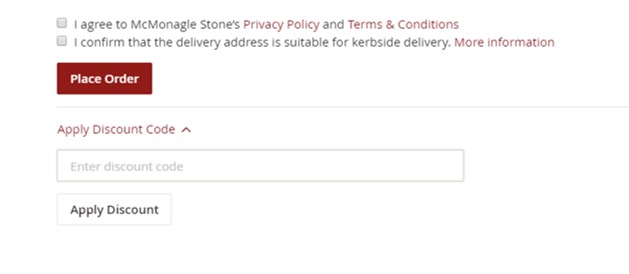 2. Make sure you click 'Apply Discount'
Once you've entered the code, click on 'Apply Discount' and it will add the code to your order. When the code has been applied to your order, you'll see the promo value and the total of your order will change to reflect the code.
You must enter the discount/promo code when you are checking out as it can't be applied later.
If you find that your promo code isn't working then please check the below:
A discount/promo code can only be applied once per order. This also applies to our free delivery codes too.
Discount/promo codes cannot be used for gift vouchers or for any delivery charges unless specifically given as a Free Delivery Promotion.
As our discount/promo codes vary so do the terms and conditions of each, so make sure you check when you receive any codes. Codes may only be valid for certain items and the majority of codes will have an expiry date. You should be able to find the terms and conditions in the same place you found the code whether it be through an email, advertised on social media or our website.
Some codes will only work for specific people or for specific locations. The terms and conditions will state if the code can only be used in a certain country. If you've received the code in an email from McMonagle Stone then the code may also be locked to that email address. Make sure you're trying to use the code using your McMonagle Stone account that has the same email address as we sent the code to.
3. Contact us
If your discount code is still not working after checking all of the above, then please get in touch with our Marketing Manager via email to info@mcmonaglestone.com describing the issue you are experiencing while trying to use the promo code.